I'm not gonna lie — I do love a good chicken nugget (and remember Chicken Nuggets Are NOT Chicken Tenders!!!).. and we all know some chicken nuggets are better than others… so here's a list of the BEST fast food chicken nuggets (ranked from BEST to WORST) — where are your favs?  This list (and commentary are from UpRoxx)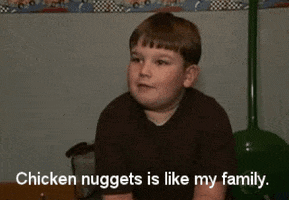 1.  Chick-fil-A, Nuggets… The best chicken nuggets in the entire fast-food universe, it's not God's chicken for nothing!
2.  Wendy's, Spicy Nuggets… The spiciest nugget in the game.
3.  McDonald's, Chicken McNuggets… when they're good, they're great
4.  Shake Shack, Chick 'n Bites… Delicious but forgettable.
5.  KFC, Popcorn Nuggets… A strong and solid mid-tier nugget, but if KFC offered it in Original Recipe it would be a significantly better experience.
6.  Popeyes, Chicken Nuggets… get the spicy tenders instead
7.  Jack in the Box, Chicken Nuggets… These taste great paired with Jack's BBQ sauce or Buttermilk Ranch
8.  Wendy's, Chicken Nuggets (non-spicy)… Get the spicy ones instead
9.  Burger King, Chicken Fries… ehhh
10.  Rally's, Chicken Bites.. Good, but not good enough to make it through an entire half-pound order.
11.  Carl's Jr, Chicken Stars… Chicken the way you've always wanted it — in the shape of a star. Really?
12.  Sonic, Jumbo Popcorn Chicken.. Not bad, just not great.
13.  Chick-fil-A, Grilled Nuggets… If you're gonna get grilled nuggets, get these I guess… but it doesn't come anywhere close to being as good as its fried counterpart.
14.  Arby's, Premium Nuggets… Don't be lured by your curiosity
15.  Burger King, Chicken Nuggets…  Order the Chicken Fries instead!
16.  Dairy Queen, Rotisserie-style Chicken Bites.  "Run!  You won't find a worse nugget on this planet.  These are aggressively bad."